Here is the video transcript of Introduction of Cloud ERP video:
You are a business owner or the CEO of your company. You face many challenges in running your business. Employees in your company may still be using paper work or manual processes where information is hard to find.
The company may be using many software tools but still you don't have visibility into your business because tools don't talk to each other. You want to maximize your revenues in your business? If you feel that your sales team is not performing but you don't know why?
You may be finding hard to manage your cashflows because your sales forecast is not accurate. You may not have to control your inventory which hurts business.
You may have a lot of employees but you don't know if they being productive at their work? Your business must be growing globally. But you may find it hard to keep track of global operations.
New technologies such as smart phones and tablets are introduced. How do you adopt those technologies in your business? How do you take advantage of opportunities emerging from ecommerce?
What you really need is an Cloud ERP system that can help growing your business more effectively.
An ERP system covers all aspects of your business in a single tool. The ERPinCloud product from Bista Solutions is such an ERP system that is offered in the Cloud. ERPinCloud gives you high visibility to your entire business. With ERPinCloud you can take better decisions that help your business.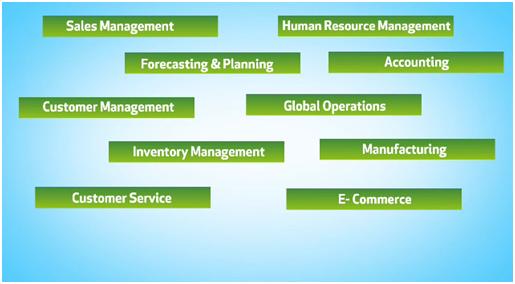 ERPinCloud gives you control of your entire sales process. You can forecast your sale more accurately and reduce cash flow problems. With better sales forecast, you can optimize your inventory in free of cash.
You can reduce leads time to stock shortages and hence accelerate sales. You also can keep track of payments from your customers.
Once you received the payments you can keep a track the orders and shipments from the warehouse to the customer. Cloud ERP by ERPinCloud also supports multiple currencies for international orders.
Cloud ERP by ERPinCloud helps serve your customer better to your help desk and customers service department. You can handle customer support request such as Returns, Refunds and Exchanges in a systematic way using Cloud ERP by ERPinCloud.
Cloud ERP can manage your entire organization structure. Human Resources related functions such as Employee profiles, Timesheets , Payrolls and appraisals can be managed well using Cloud ERP.
You can understand performance bottleneck with your employees. Using Cloud ERP you can increase your employee productivity levels.
Cloud ERP makes project management easy. You can identify resource requirements, product dependencies and budget requirements for your projects. You can deliver your projects successfully on schedule and within your budget. As you scale up globally, Cloud ERP helps to track your operations across the world.
Further Cloud ERP has already been optimized for different industry verticals. Cloud ERP has incorporated features for trading, Retail, Manufacturing and Ecommerce verticals. You can sell your existing products online using Ecommerce features in Cloud ERP.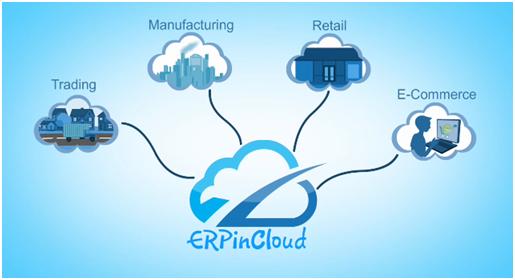 Cloud ERP is well integrated with social media. You can use social media platforms such as Facebook and LinkedIn to generate new leads and hence grow your business.
Since Cloud ERP is an SAAS product, you don't have to invest in costly hardware, complicated equipment or expensive resources. You don't need to worry about software upgrades. It is easy to migrate legacy data to Cloud ERP.
Overall Cloud ERP is simple to adopt with very little learning period. With Cloud ERP by ERPinCloud you can focus on your business while we focus on our technology for you.
Take a FREE Trial of Cloud ERP>>